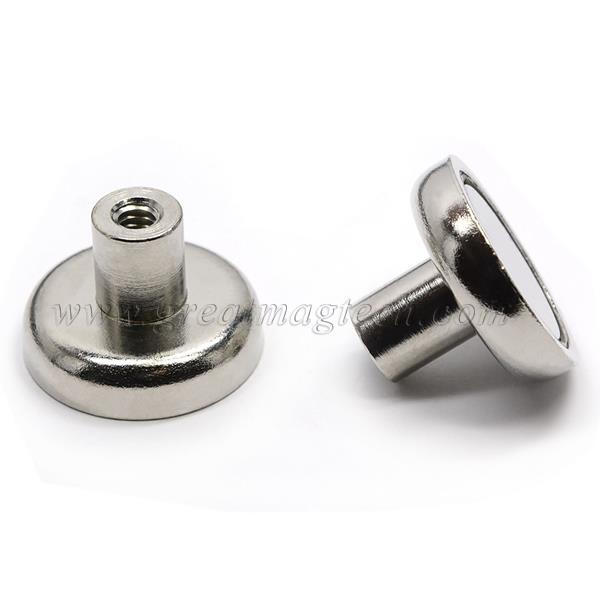 Add to Favorites
Share
Pot Magnets for Sale
Payment

Origin

China Mainland

Minimum Order

1

Packing

Pieces
Product Detail
NdFeB pot magnet with internal threaded Stud Holding Magnets
The Feature of Magnetic Assembly:
?Use high-quality metal parts or plastic pieces with a combination of magnet.
?Special magnetic circuit design and production methods.
?Strong magnetic force: Its magnetic force is 3-5 times of the pure magnet.
?Due to the mechanical properties of the various parts of the magnetic assembly, it is possible to perform different processing such as stretching, cutting, drilling and polishing.
?Magnetic assembly can be made pot magnet, magnetic hook, magnetic fixture and other different types of magnetic devices according to client's requirement.
?Appearance treatment: Due to the corrosion resistance of magnets and metal parts, we can according to different environmental requirements of its surface plating: (such as plating ZN, NI, AL, Epoxy, etc.), can also be based on the needs of the color and the specificity of the face, For painting, plastic package, including stainless steel and other special appearance treatment.
?Widely application: we can according to customer needs different pull force and temperature requirements, with the corresponding magnet, (such as ferrite, NdFeB, SmCo, etc.), so that can meet the needs of different customers.
Magnetic assembly no energy consumption, no pollution, because the main use of rare earth alloy magnet as a magnetic source, it has a strong magnetic force, simple structure, long life, variety specifications and other superior features, is now widely used in mechanical processing, Advertising exhibition, office and family life and other fields.


NdFeB pot magnet with internal threaded Stud Holding Magnets Specification:


Model

D

D1

M

H

h

Net Weight(g)

Attraction(Kg)

ND10

10

6

3

12.5

5

4

1.5

ND12

12

6

3

12.2

5

5

3

ND16

16

6.5

4

13.5

5.2

9

8

ND20

20

6.5

4

15

7.2

17

9

ND25

25

7.5

5

17

7.7

28

22

ND32

32

10

6

18

7.8

45

34

ND36

36

10

6

18.5

7.6

55

41

ND42

42

10

6

18.8

8.8

84

68

ND48

48

12

8

24

10.8

130

81

ND60

60

12

8

28

15

263

120

ND75

75

17

10

35

17.8

515

178

Available in a variety of sizes. vSize can be customized for our client.
Material: NdFeB Magnet+ A3 steel
Temperature: under 80?
This type of neodymium pot magnets with screw socket into which you can screw hooks, eyelets, etc. You can called it NdFeB pot magnet with internal threaded stud or female threaded stud pot magnet, We also carry identical hook magnets as well as eyelet magnets for holding magnet.
NdFeB pot magnet with internal threaded Stud Holding Magnets Holding Force Detection
We used the automatic mechanical speed of 80mm/min of pull strength, by attracting on the magnet 10mm thick iron sheet, test the maximum vertical tensile force of the magnet, when it separate from the sheet.
1). Different companies test the pull strength by different methods, so the result cannot be compared.
2). Need to consider the actual use of insurance factors in the strength and tension. Ideally when in direct contact with the ferromagnetic steel surface). The actual tension achieved depends not only on the surface of the object (material type, thickness, flatness, etc.), but also on the size and quality of the magnet.


Why Choose From Us?

(1)New raw materials, safety and secure

Selection of authentic industrial new raw materials, refuse to use of recycled materials for processing. In line with RoHs environmental certification, in strict accordance with the company's management system to control the quality of raw materials to ensure that products meet customer requirements of the performance; do not have to worry about the physical damage, be rest assure.

(2)Pay attention to detail, put an end to flaws

We have strict performance requirements, strict control of product tolerances in line with national standards, nickel-copper-nickel three-layer coating, improve the corrosion resistance of the product level, smooth and clean surface.
(3)Multi-layer quality inspection, ensure quality
Quality is our life, we have established a sound quality management system, through the "self-inspection, mutual inspection, special inspection" multi-storey inspection, strict quality control. Before shipment will be the final inspection to ensure that the products to your hand is in line with your requirements.

(4)Long product life, competitive price and better service

NdFeB as one of the rare earth permanent magnet materials, magnetic strong, and can permanently maintain the magnetic and not demagnetization, long life, much better than the ordinary ferrite magnet.
Our price is based on ensuring the quality of products under the premise of more advantages of the price, the introduction and improvement of production equipment makes the production efficiency continues to improve.
To provide comprehensive after-sales service, and actively provide customers with solutions and strong technical support. Customer satisfaction is our motivation.
NdFeB pot magnet with internal threaded Stud Holding Magnets Packing


NdFeB pot magnet with internal threaded Stud Holding Magnets Application
The female threaded stud pot magnets with screw socket is widely used in advertising Exhibition Display Signs, mounting magnet, Holders, Magnetic Bases, mechanical processing, window dressing , door / cupboard and gate clamps, false ceiling clamps, signs and banners, torque limited seals, jigs and fixtures, lighting holders, marketing and exhibition displays, retrieval magnets, industrial fixings, office, family life and other fields.

3
YRS
Great Magtech (Xiamen) Electric Co.,Ltd
China
Favorites